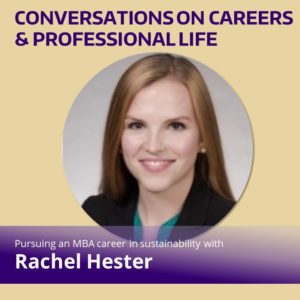 On this episode I speak with Rachel Hester, Foster MBA 2018. Rachel went to work for Nike in a finance manager role after graduating, and in a little less than a year moved into a role in sustainability Finance. Since we recorded this conversation during the summer of 2021, Rachel has moved on from Nike and joined VMWare to work on ESG strategy and finance.
Rachel shares some excellent advice for students who are interested in pursuing a career in sustainability.
I think there are three key takeaways from my conversation with Rachel:
Be vocal about your passion. If you want to work in sustainability especially at big company, sustainability might not be in your first role or title. But when you get that job, let anyone and everyone know what your interests are, and you can start that even while you are at Foster.
Get sustainability experiences during your time in the program, internships, case competitions, applied projects, and things of that nature.
Identifying your north star, developing a framework to guide the decisions you'll make during the program and stay focused on what your goal is. This is one of the reasons we take all of our students through some design thinking exercises based on the book and curriculum of Designing Your Life which comes out of the d.school at Stanford during our orientation programming.
Some links to resources we mentioned:
And a few more that we didn't: