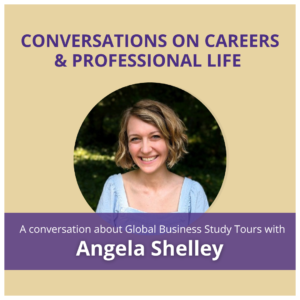 This episode features a conversation with Angela Shelley, the Assistant Director of MBA Global Programs at the Foster School of Business Global Business Center. We had an enlightening discussion about the global study tour program at the Foster School of Business, its objectives, and the transformative impact it has on students' career trajectories.
Learn more about the Global Business Center, and the MBA Global Programs.
The Global Study Tour Program: An Overview
The global study tour program is an innovative initiative designed to expose MBA students to global business. The program takes students on a two-week journey to different countries, immersing them in local businesses and cultural experiences. These tours are led by faculty members, often accompanied by a staff member, and offer pre-departure sessions to equip students with necessary information and preparation for the trip.
These sessions cover a wide range of topics, from culture and history to the nuances of doing business in the destination country. While the study tours are optional for credits, they can fulfill requirements for the international perspective, the global business program certificate, and some ESG specializations.
The Study Tour Destinations: A Changing Landscape
The locations of the study tours change every year, with two exceptions. The Asian Capital Markets course includes a study tour to China and Japan every other year. The Global Consulting India project happens annually, providing consulting services to the Self Employed Women's Association in India. This consulting experience extends beyond the trip, as students continue to work on their projects both in India and back home in Seattle.
The Impact of Study Tours on Career Trajectories
Angela shared some insightful observations about the impact of study tours on students' career trajectories. While she didn't have specific stories to share, she noted a recurring theme of students being inspired to do more in global business after participating in study tours.
For instance, some students have shifted their thinking about sustainability, realizing that it should be implemented from the beginning rather than added on later. Angela also shared about a student who was inspired to pursue a career in global business after a trip to Israel and reached out to her for guidance on how to get started.
The Global Business Program Certificate: A Gateway to Exclusive Opportunities
Angela advises students to sign up for the Global Business Program Certificate, which encourages a more global experience and provides access to exclusive opportunities. She also mentioned other programs and events offered throughout the year, such as the Taiwan Business Conference and the Global Business Forum.
The Benefits and Opportunities of Participating in a Global Business Center Study Tour
Angela emphasized the importance of being open to new ideas and ways of doing business. One of the main advantages of these study tours is the chance to engage with difference and gain exposure to new perspectives.
She also highlighted the networking aspect of the study tours. Students have the opportunity to form deep connections with their peers, faculty members, and professionals in the industry. These relationships can be valuable for future collaborations and career opportunities.
Preparing for a Study Tour: Angela's Advice
Angela suggests being excited about engaging with difference and being open to new opportunities. She encourages students to take advantage of the network they can build during the tour and to make the most of unique experiences that may not be available in their everyday lives.
In conclusion, Angela highlights the transformative impact that study tours can have on students' personal and professional lives. She encourages interested students to reach out to her or other MBA classmates who have participated in the tours for more information.
So, if you're an MBA student looking to make the most of the study tour experience, take Angela's advice: take advantage of the opportunities available, stay connected through the Global Business Program Certificate, and be open to new perspectives and career possibilities.
The content in this post was generated using PodSqueeze.ai.
This episode was produced with editing and engineering support from Amelia Ngyuen, a student in the Communication Leadership Master Program at the University of Washington, and made possible in part with funding from SnoCap, a Venture Capital firm investing in early-stage, platforms that directly and indirectly solve the climate crisis.