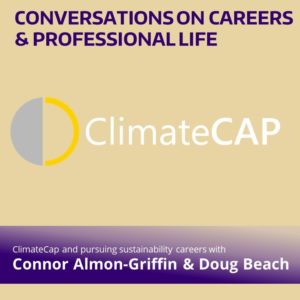 On this episode, recorded in March of 2022, I spoke with two Foster MBA students, Connor Almon-Griffin (MBA 2023) and Doug Beach (MBA 2022) about their experience attending the ClimateCap — The Global MBA Summit on Climate, Capital and Business in February of that year. ClimateCap, as you'll hear, brings together MBA students from around the world with corporate leaders in sustainability to discuss the 21st century's biggest business issue.
The past year has seen the passage of the Infrastructure Investment and Jobs act and the Inflation Reduction Act, two pieces of legislation that will pump billions of dollars into renewable energy, decarbonization and other solutions to the climate crisis. IN the last few months, as headlines have covered layoffs in big tech, other headlines have told a different story of hiring by companies focused on climate tech, and sustainability. The Foster School has also rolled out an ESG Concentration within the MBA program. Interest in climate jobs is hot inside and outside of business schools.
Connor and Doug shared so much great advice in this episode, but the thing I want to underscore the most is the importance of networking, both within the program — as Connor said, find your people — and as Doug said, even after you have secured your internship or job. The economy has changed since we recorded the episode a year ago, and having a strong professional network is critically important to personal and professional resilience in times of economic uncertainty.
MBA-Edge.com Insights on the most important issues for today's MBAs from Duke's Fuqua School of Business